How to connect Lithe Audio Bluetooth speakers together via cable (Lithe Link)
Using our Lithe Audio Bluetooth speakers you have the ability to connect up six speakers (3 pairs) together using Lithe Link feature (Green/Pink) jack terminals, as shown below.
The connection is between the master Bluetooth speakers for Lithe Link, (slaves are connected to master via speaker cable).
We recommend Shielded cable over a standard cable as this shall give you the best chance to perform without distortion otherwise the cable shall act as an aerial causing unwanted noise.
If you still find there is noise through the speaker you can add a ground loop isolator, this shall suppress the noise further. Just connect this to the Line input side of the speaker a shown above green input end.
The light grey loop is optional to complete the loop, so all master speakers can play and distribute sound. Eg. Kitchen and Diner connected by one lithe link 3.5mm cable from Kitchen to input of Diner, the Kitchen speaker would only be the one to play through both speakers, where as, if you connected to Diner, it would only play through that speaker NOT both. If you connect the optional loop then either would play together at the same time.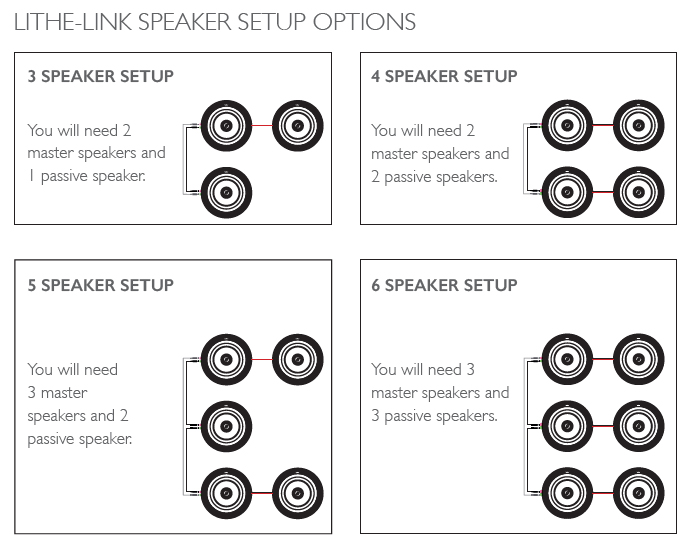 As shown above it shows the Lithe Link connections between the speakers for various types of setup.
3 speaker setup - 2x Shielded 3.5mm cables (Optional 2x Ground Loop)


4 speaker setup - 2x Shielded 3.5mm cables (Optional 2x Ground Loop)


5 speaker setup - 3x Shielded 3.5mm cables (Optional 3x Ground Loop)


6 speaker setup - 3x Shielded 3.5mm cables (Optional 3x Ground Loop)
The setup enables you to play music to all speakers at the same time.
Important
Only one device must be connected to the Bluetooth speakers for this to work (Disconnect other devices)
If you do not disconnect other devices then all speakers shall not play, as if another device connected via BT then this shall continue to play in isolation.
The speakers have 10 metres max Bluetooth range, so when placing master speakers ensure that you have overlap, so ensure master speaker distance at say 9 metres apart to ensure that any point your device can reach any given speaker.
Related Articles

How should I connect my Lithe Audio speaker to my TV?

In this article, we will explain what is the best way to connect to a TV using our Lithe Audio speaker. We understand this will depend on what version of speaker you have. Lithe Audio Bluetooth Speaker There are a couple of ways to connect to a TV ...

Whats the difference between Bluetooth & WiFi Lithe Audio Speakers?

The key differences of the Lithe Audio Ceiling speakers are: Bluetooth Speaker - Single room solutions - 30m range - can play anything from source via Bluetooth 5.0 - Voice Control via Alexa or Google Home WiFi Speaker - Multi room system (can play ...

How to connect Lithe Audio Bluetooth speaker to my device

To connect your Bluetooth speaker to your device Ensure power to the speaker (flashing blue LED visible) On your device go to Bluetooth settings, ensure Bluetooth turned ON "Lithe Audio BT" shall show on the device list at the bottom, click "Lithe ...

How to change the Pin on an Lithe Audio Bluetooth 5.0 speaker

Please Download the BT Lithe Audio App NOTE: This update only works on new version Bluetooth 5.0 speakers from March 2020 onwards. (If in doubt please contact us) iOS app store: https://apps.apple.com/gb/app/la-bt-5-setup/id1510569987 ...

How do I connect Lithe Audio Bluetooth Speaker to Google Home product ?

Please ensure that the speaker you have purchased is a no PIN version, as it doesn't connect if it has a PIN. How do I check this ? When you try to connect your phone to the speaker, search in Bluetooth settings - Lithe Audio BT, click speaker if it ...