Your Wi-Fi speaker shall have the latest firmware installed, which now includes Airplay 2.

If your speaker has the latest update Airplay 2. Simply go to your phone Airplay setting, (swipe down from top right hand corner and select airplay) within the list it shall show the Lithe Audio Wi-Fi speaker for example BEDROOM.

Within the menu, you can either select one speaker (using any source) or select (tick) multiple speakers to work together (wirelessly) using the same source as shown below.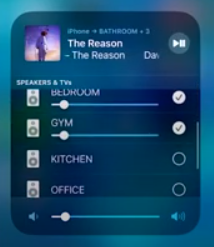 If the menu does not look the same as above and the speaker box is either a solid white tick / or blank this means the speaker has Airplay 1.

Update your speaker to the
latest firmware
to get Airplay 2. Go to
the
Lithe Audio APP
, within
speaker setting
and select
firmware options
from there you will select the
IOS update.
Airplay 2 doesn't just allow you to use our speakers they can be also be grouped with any other Airplay 2 device. For example, you could have your Lithe speaker working alongside a compatible Airplay 2 TV to play the same music. It's that simple!

In addition: Example you can then setup within Apple Homekit, to trigger rules, when Hue PIR detects movement play a certain track in the bathroom for 5 mins (Apple music required)